Match Report - Round 1 1947
MANLY 13 (3t, 2g) vs WESTERN SUBURBS 15 (1t, 6g)
Brookvale Oval Saturday 12/04/1947 3:00
Referee: Aub Oxford | Crowd: 4,200
Team: A. J. (Bert) Collins, Jim Walsh, Kelly McMahon, Mackie Campbell, Johnny Bliss, Merv Gillmer, Gary Madrell, Jim Hall, Megsy Kirkwood, Max Whitehead (c), Pat Hines, Ern Cannon, Harry Grew.

Scorers: Tries: Kirkwood, Bliss, McMahon; Goals: McMahon? (2).

Report: Playing its initial first grade game, Manly scored three tries to one against the strong Western Suburbs team, but lost the game on the back of a string of scrum penalties from controversial referee Aub Oxford. Wests scored five minutes after the start but Manly hit back quickly with a try scored by second rower Megsy Kirkwood from a centre kick by Kelly McMahon. This, of course, gave Megsy the distinction of being the first ever try scorer for Manly. Then fullback Bert Collins broke through from within his own quarter to send Johnny Bliss away on 50 yard dash for the try of the match. McMahon scored Manly's third try to set up a 13-9 half time lead. Manly failed to score in the second half and Wests snuck home with three more penalties .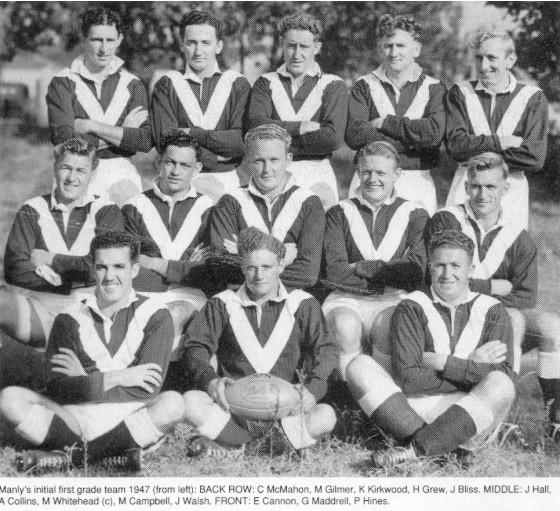 Sources: Contemporary newspaper article provided by Glenn Thorpe (16 matches 1955-54); Smith 1991, pp. 25-27; stats.rleague.com