[From Smith 1991, p. 39]
Wally O'Connell holds an exalted place in the annals of Manly-Warringah District Rugby League Football Club. O'Connell paid when he accepted the player-coach position at Manly in 1950 — in sitting out the entire season he forfeited three certain Test appearances against the touring British Lions rather than kowtow to the New South Wales Rugby League's contentious residential qualification rule.
This is no idle assertion — O'Connell had played in the preceding nine Tests, captained Australia in the first Headingley Test against Great Britain on the 1948-49 Kangaroo tour, and was a lay-down misere to be the Test five-eighth again for the 1950 series. O'Connell is a man of steadfast principle. He was overwhelmed that the Manly District would amass a fund designed to make him a Sea Eagle and he didn't have the heart to let that community collection go to waste.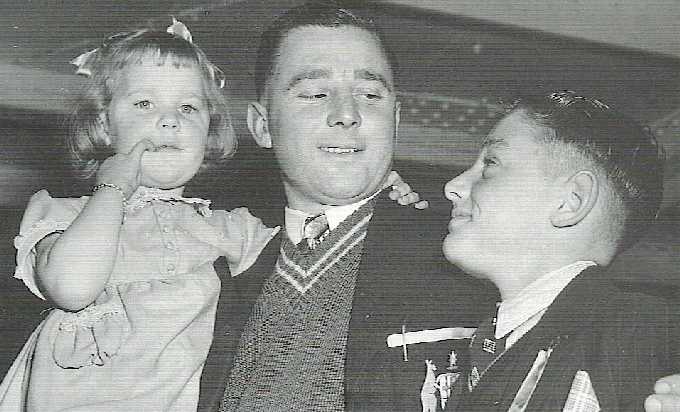 His fight with the League's Qualifications committee was the celebrated Test case of the era. He had left Easts, his boyhood club of eight seasons, after being thwarted in his pursuit of the player-coach position. He filled that role at Christian Brothers in Wollongong in 1949. When he
decided to take up Manly's offer as player-coach for the 1950 season, Easts appealed to the League's Qualification Committee to check his residential bona fides.
"Easts believed that I didn't fulfil the necessary requirements which was to live 12 months in Wollongong and then reside 28 days in Manly before I was eligible to play," O'Connell recalled. "But I had done all that. "The Qualifications Committee requested me to present documentary evidence which included taxation assessments from my Wollongong employer, rent receipts from where I lived, my election roll card and my ration book.
"I went home, gathered them all together, and took them in the following Monday night butthe committee then asked me for my wife's roll card and ration book, which they hadn't previously requested. I said they were at home, but they didn't report any of that to the General Committee meeting, saying that I had been asked for my wife's ration book and roll card and couldn't produce either, so they ruled me eligible to play only for Eastern Suburbs. "Your wife's roll card was important in those days because your address was where your wife lived, to guard against players packing up and going to the bush, living in some town and leaving their wives at the family home. In my case that wasn't so. "So they just told me to play for Easts, which was a bit of a shock. In my own mind I knew I was right and there was no way I was going to do something against my wishes, so I appealed. But Jersey Flegg, the League's chairman, said there would be no appeal, I would play with nobody else, so I made up my mind after a couple of days.
"The Manly blokes had stuck by me and Easts supporters kept reminding me that the English would be here that year and that I had played the last nine Tests, so why should I not make myself available to play against them? "I had to make a decision whether to play with Easts and carry on my career or stand down for a whole season and just coach Manly and player-coach them from the following season, which I decided to do. "I missed out playing in the three Test matches againstGreat Britain forsure, and probably was more out of pocket, but I did it for my own conscience sake. I would never forgive myself if I did the wrong thing, even if the League had ordered me to do it.
See Also:
Wally O'Connell
Leagues Little Big Man
Wally on Today's Game