BOZO's TRIUMPHANT FAREWELL

'Manly's win in the 1976 Grand Final was a triumph for three men in particular - Manly Secretary Ken Arthurson, coach Frank Stanton and captain Bob Fulton. Firstly it was further proof of Arthurson's astuteness in bringing the class of player the club needed to win the premiership. For Stanton, it was his first success in a coaching career which was to bring two premierships and two ashes wining Kangaroo tours. Lastly for Fulton, it was a bitter-sweet end to a fabulous career with the Sea Eagles. In accepting the Giltinan Shield, the tear-fillrd Manly captain capped a decade of brilliance with the Sea Eagles in what was his 213th first grade appearance.' [Whiticker 1994, page 147.]


Source: Smith 1991, page122
'Parramatta were first into the Grand Final, triumphing 23-17 in a bloody, sometimes brutal major semi-final against Manly'. [Heads 1992, page 365.] Manly earned a grand final berth the following week in the final, surviving a Canterbury come back to win 15-12.
Parramatta scored first in the Grand Final to lead 5-0. A penalty goal to Eadie closed the score to 5-2 before Alan Thompson side-stepped through to send Phil Lowe in for a try. Scored were locked 7 all at half time. Geoff Gerard scored an unconverted try for Parramatta early in the second half, but two penalties gave Manly an 11-10 lead. 'Parramatta missed a vital opportunity to score when winger Neville Glover put down a pass from John Moran in the Paddington Hill corner with the try-line wide open'. [Whiticker 1994, page 150.]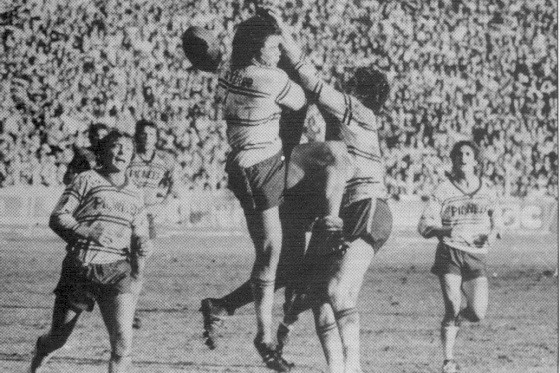 A frantic moment [Whiticker 1994, page 148.]
Another penalty gave Manly a 13-10 lead. In the frantic dying minutes Parramatta threw everything they had at the Manly defence including the infamous flying wedge of doubtful legality that had Ron Hilditch at the apex of a phalanx of players driving him towards the line. The wedge was somehow stopped by Eadie a foot short of the try line.
The Manly defence held and the Sea Eagles secured their third premiership in five seasons and enabled the emotional Bob Fulton to end his playing career at Manly on a high note - as Grand Final winning captain.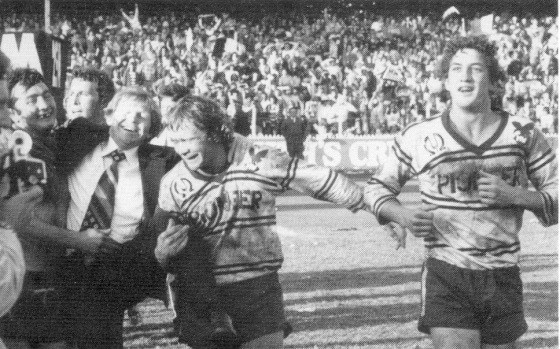 Victory lap Krilich, Stanton, Fulton and Gartner [Source: Smith 1991, page123]
For Parramatta it was a case of the ifs. Notably, 'if Neville Glover hadn't dropped the ball...' As Arko comments in his biography: 'To that I would just reply that if my aunt had balls she would be my uncle...' [Athurson 1997, page 102.]

Randall gets a champagne shower from Gartner | Mooney, Randall and Harvey celebrate
[Source: Smith 1991, page123]
Sources:
Smith 1991
Whiticker 1994
Athurson 1997
Heads 1994